Biography of Peter Iredale
By Thomas P. Iredale
Born in Great Broughton, on the West Cumbrian coast on 12th May 1823, the third child of John Iredale and Elizabeth née Meller, Peter Iredale was baptised just over a month later in St. Bridget's Church in Bridekirk. He spent all his early years in the Cockermouth area. In the second quarter of the 18th century, Maryport was an up and coming, busy industrial town involved in coal, shipping and shipbuilding.
Not a great deal is on record about how he spent his early days, schooling etc. but at the age of 17, he went to sea. He started up the career ladder when, after 5 years of sailing before the mast, he became Mate on the "Princess Royal" of Liverpool and also served in this capacity on the "Buenos Ayrian" until March 1848.
From this date until February 1851, no records are available as to his activities, but from then until March 1853, he served as Mate on board the "Princess Royal" again, the last month as 1st Mate. Then 30 years old, he resided in Liverpool and there he sat the examination for the Master Mariner's Certificate on the 8th April 1853. According to the testimonials he produced, he had 13 years and 3 weeks of service at sea. A week later, he married Betty (Bessie) Archer, daughter of Joseph Archer, a ships' victualler and yeoman of Dovenby, and his wife Martha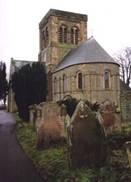 St. Bridget's Church in Bridekirk
(née Martindale) in the same church in Bridekirk, where he was baptised. He seems to have settled for a while in Dovenby, "or Dolphinby, a village and township, 2½ miles N.W. of Cockermouth, containing about 1819 acres." (from: Mannix & Whellan, History, Gazetteer and Directory of Cumberland, 1847) his wife's home, not far from Maryport seaport.
From 1854 until 1864, there are strong indications that during this period he acted as supercargo in West Africa for Messrs Stuart & Douglas of Liverpool. In an obituary, it was written that "He was a man of great vigour and possessed an iron constitution. He fought down fearlessly, even scornfully, attacks of all kinds, recovering from Yellow Jack coast fevers, and other troubles, until he became almost inured from disease. While many others perished on that fatal coast, he triumphed over every disease, by which he was assaulted."
On the other hand - if we stay in these unaccounted 10 years - there is a serious allegation by Capt. Frank H. Shaw in his book "Seas of Memory" published in 1958, that "Peter Iredale, the owner of the Dovenby, whom I later met, was a shameless opportunist, who ran his fleet on the thriftiest lines. He had made money in the slave-trade, running Black Ivory from the Guinea Coast to the Southern States; and had invested his gains in a considerable fleet of windjammers, all of them strictly utilitarian, and run much as he had run his Middle Passage contrabandists. He manned his vessels with romantic boys for the most part, supplementing them by the minimum allowable of fore-deck hands. He bought condemned Navy stores for feeding his flock. He was a flint-hearted miser, and seldom contacted his victims in person. When my wire-spinning friend took me to interview this magnate, he said: 'That boy seems to be educated!' " There is nothing on record (so far) that bears out this allegation. The key question is however, where did he find the great amount of cash to finance his fleet in such a short period of time and in those days?
He is recorded in 1857 to have had an address in Liverpool, at 26 Windsor Street. Additionally, he is listed in the same year as being the owner of the vessel "Margaret Blais" on a voyage from Quebec to Liverpool. However, his family probably stayed in Dovenby, as his first two children, son Joseph Henry and daughter, Martha Lizzie (who later married John Porter) were both baptised in the Bridekirk church in 1859 and 1861 respectively.
His career as a shipowner began properly, when he had the iron barque "Calabar" (496t) built for him in 1864 by Williamson of Harrington, just down the coast from Maryport. He had himself 44 shares in this vessel. Giving this name to his first ship possibly portrays the strong recent association with West Africa.
There was great sadness in his life, when his second daughter, Mary Isabella, died three weeks after being born 1866 in Dovenby and who was interred at Bridekirk, a focal point for his family. Two years later, his third daughter, Ada Mary Isabel, was born, but who was to tragically die in 1879 before she was eleven years old. The family had moved before then to Rock Ferry.
Between 1868 and 1879, as P. Iredale & Co, he had 14 ships built in relatively quick succession: Lizzie Iredale, (693t) 1868; Vale of Doon (687t) 1869; the first Dovenby (871t) 1871; Ada Iredale (1032t) 1872; Seaton (757t) 1873; Great Broughton (828t) 1874; City of Carlisle (859t) 1875; Ullock (815t) 1875; Martha Fisher (811t) 1875; Lizzie Bell (1036t) 1877; Archer (789t) 1876; Cockermouth (1377t) 1876; Cumbrian (1053t) 1879 and acquired the Mary Ann Wilson (897t) 1871. Discounting losses, he had a fleet of 15, carrying cargoes of grain, timber, coal and nitrates between the hemispheres.
| | |
| --- | --- |
| | P. Iredale & Co Flag |
Noteworthy is the fate of the Ada Iredale, which was abandoned in 1876 in the South Pacific, with her cargo of coal on fire and she drifted for 8 months before being towed into the port of Papeete. Eventually sold and repaired, she became first the Annie Thompson of San Francisco and then in 1927, the Bretagne and under this name met her fate when she was abandoned off the coast of Oregon in 1929. In all, this ship, originally named after his second daughter, saw 57 years of service.
Other ship losses during this period were: Calabar abandoned 1872; Mary Ann Wilson wrecked on Blenheim Reef 1878; Seaton wrecked at Billiton 1875.
In 1881, J. Henry Iredale, then aged 22 joined his father (now aged 58) in the business and the company was renamed "P. Iredale and Son". By this time, the family were firmly established in their residence in Rock Ferry, just a short boat ride from the Liverpool Docks.
| | | |
| --- | --- | --- |
| | Residence at 8 Rock Park, Rock Ferry | |
The marriage of Martha Lizzie Iredale to John Porter in 1885 was in some way, a fusion of personal as well as professional interests, as John came from the family of William Porter, a shipowner from Belfast. Five years after it began,the partnership with Joseph Henry was dissolved in 1889, in which year saw him married to Anne Porter. He went into shipping on his own account and in the same year, John Porter was taken on as a partner by Peter Iredale, so that the firm was re-designated "P. Iredale & Porter Ltd".
As "P. Iredale and Son", the existing fleet was expanded to include the following vessels: Embleton (1196t) 1881; Allonby (1451t) 1882; Vale of Doon (687t) 1882; Astoria (1429t) 1885; Bessfield (1322t) 1886; Derby Park (1292t) 1887; Kinkora (1630t) 1888; Lorton (1380t) 1888.
Ship losses during the period 1881-1890: G. Broughton 1881 wrecked in Columbia River; Lizzie Iredale 1887 missing; Derby Park 1889 out of register; Dovenby 1890 sunk in collision with Argomene. Disposals were: Penrith 1882 renamed Hannover, Hamburg; Vale of Doon sold in 1888 to WB Jones, Liverpool.
With the reforming of the company in 1890 to become "P. Iredale & Porter Ltd", Peter Iredale himself was 67 years old and still fully involved with the day to day running of the fleet. The company still continued to acquire ships. The new ones were: Kinkora (1630t) 1888; Drumalis (2530t) 1890; Ulidia (2378t) 1889: Peter Iredale (2075t) 1890; Dovenby (the second of this name) (1653t) 1891; Ravenhill (1826t) 1891; Arethusa (1279t) 1891; Lodore (1670t) 1892; Mowhan (2873t) 1892; Iredale (1490t) 1894; Lonsdale (1889t) 1894. The Mowhan was the largest ship that Peter Iredale had ever owned.
Ship losses from 1891 to 1899 were: Ulidia 1893 wrecked on Stragglers Reef, Freemantle and now a designated wreck, protected by Australian law; Archer 1894 broken up in San Francisco; City of Carlisle 1897 abandoned in N. Atlantic; Kinkora 1897 abandoned waterlogged and afterwards wrecked on Clipperton Island. Disposals were Ullock 1894 renamed Johanne Norway; Martha Fisher 1899 Norway.
An ex-officer apprentice and executive with P. Iredale & Porter, Mr. A. Leon Marsh reflected in his memoirs, that: "....Mr. Iredale had been brought up in a hard school for seafaring life in his early days was a very different matter from nowadays. He was a great individualist with a wide knowledge of humanity. Apparently rigid in control and stern against wrongdoing he had an underlying very human understanding and tolerance and a sense of humour known perhaps only to those in intimate day to day contact with him. His memory was astonishing. Almost up to his death, he dealt with the ship's provisioning and stores and I used to have to be at the office at 8 o'clock on those mornings when we went through them. From one voyage to another he could recollect exactly what that ship had received before-and some vessels would be away from home port for over a year and years in cases-and many a time till I got very wary, he slyly tripped me up on the details.
His Spartan nature can be illustrated by the fact that I have seen him, because he had made an appointment in London he would not break, having to be driven to the train in Liverpool crippled with gout his leg swathed up in bandages propped up on the seat and in like manner into the train for London. I like to remember I never had but one cross word from him, which in fact was not justified but was quite understandable and excusable in the particular circumstances which I am precluded from describing for the sake of others."
Mr. Iredale was "well-known on the Shipping Exchange in Liverpool and highly esteemed by all with whom he came in contact. A familiar figure in Conservative circles, though beyond frequent financial contributions, he did not appear much in politics. He was a Non-conformist of a retiring disposition and a man of the old type, straight as an arrow, open-hearted and always had a cheerful word to say. It is not known if he had any enemies, but he certainly enjoyed a very wide circle of friends".
Peter Iredale retired in 1899 at the age of 76 years and died shortly afterwards on 26th October of the same year. His son Joseph Henry, who lived close by at 24 Rock Lane West, also in Rock Ferry, was there at his deathbed to the end. The cause of his death in the death certificate was ascribed by Dr. Francis Heatherly MB, to gout, chronic nephritis (inflammation of the kidneys) and exhaustion.
One newspaper report states: "After the funeral, Mr. Hughes began the proceedings at Hughes's shipping auctions, with a reference to the death of Mr. Peter Iredale, the owner of the Martha Fisher, at the advanced age of seventy-six years, and referred to him as one of Liverpool's old-fashioned shipowners; keen, straightforward and very practical: one whose word was good as his bond in all his transactions, and who would be long remembered by his fellow-shipowners".
The funeral took place at the quiet churchyard of Bebington, where his wife and third daughter were also interred. It was reported by the Liverpool Mercury thus: "in the presence of a large and representative gathering of mourners, testifying to the esteem and regard in which the deceased was held by all classes. His death came as a heavy blow to the shipping community, with which he had been connected for the past 20 years. The funeral cortège left the residence of the deceased, Leith Villa, New Ferry Park, shortly after 2 o'clock and proceeded to the cemetery, where it was met by the Rev H.G. Roberts (Warrington), who officiated in the church and at the graveside.
In the course of an address in the church, Rev. Roberts said:- "I think this gathering this afternoon bears witness to the nobility of Mr. Iredale's character. You who are here can speak better than I can of the indelible impression he has made upon the minds and hearts of those in Liverpool, and I was very much struck with the words taken from a reference to the deceased by Mr. John Hughes, 'that his word was his bond'. I cannot say much of Mr. Iredale's commercial life, but I am glad to say that I was with him a few hours before he died and can bear testimony to his unswerving faith in our Lord Jesus Christ."